Deauville Beach Resort once again welcomes NADA Art Fair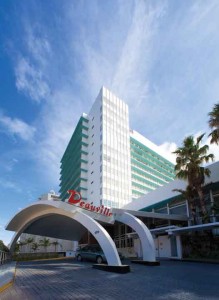 Deauville Beach Resort in Miami Beach
 By Claire Fenton
In 2009, NADA Art Fair organizers made a crucial decision for the future of the fair when they moved it from its space in the Ice Palace in the Wynwood Art District to the Deauville Beach Resort in Miami Beach. The decision could not have been better. The change of location to this hotel, a jewel of Miami Beach MiMO architecture, injected the fair with an energy and vitality that last year achieved excellent sales records and resulted in a greater influx of galleries interested in participating in this new edition.
This 1960s hotel provides the ideal environment for a contemporary art fair like NADA. Large exhibition halls with a view of the Atlantic, an enviable beach area, a pleasant pool and an environment reminiscent of the golden age of jazz and swing constitute the ideal combination of elements creating a relaxed atmosphere favorable for networking, seeing good art and doing business.
Just minutes from South Beach, the Deauville offers the accommodations of 7 suites and 484 rooms. This hotel is a testament to the glamorous Miami Beach life of the 1960s; it was a favorite place of stars like Frank Sinatra, Dean Martin, Sammy Davis Jr., Peter Lawford and Joey Bishop. In 1964 the hotel's Napoleon Ballroom served as the venue for the Beatles' second performance in the United States, transmitted live on the Ed Sullivan show, in which the Liverpool quartet opened their set with She Loves You.
Its distinctive architecture makes this hotel a jewel of the MiMO style, which was introduced in Miami Beach by a group of pioneer architects like Morris Lapidus, Norman M. Giller, Igor B. Polevitzky, Kenneth Triester and Melvin Grossman. They distanced themselves from the Bauhaus aesthetic and brought dynamism to modernism with curved surfaces, brilliant colors, boomerang angles, concrete cantilevers, and walls with circular cut-outs resembling a ship's portal windows.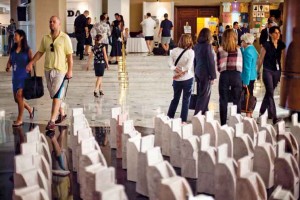 NADA Art Fair 2009 at the Deauville Beach Resort.
This year the Deauville once again welcomes NADA Art Fair in its eighth year in Miami. This fair, organized by the New Art Dealers Association, is the only non-profit fair taking place in Miami; each year it arrives with an excellent selection of young galleries and emerging artists from around the world. The Deauville's two ballrooms, the Napoleon and the Richelieu, will welcome 89 galleries,10% more than last year. Present will be galleries from the United Kingdom, France, Italy, Greece, Ireland, Spain, Switzerland, Canada, Australia, Japan, Mexico, Russia and of course the United States. Exhibitors will come from New York, Miami, Los Angeles, Cincinnati, San Francisco and Seattle. In this eighth edition, NADA inaugurates a new initiative, NADA Projects, which has been introduced to help elevate the quality of the fair with innovative curated projects. This initiative also makes it easier for non-profits and young galleries to occupy more economical booths and thus be able to participate in the celebration of international contemporary art taking place each December in Miami.
7 For All Mankind will once again award the Best Booth Prize to one of NADA's exhibitors with a cash value of $7,000. The winning gallery will be announced during the fair preview on December 2.
NADA Art Fair at the Deauville Beach Resort is definitely one of the required destinations for all who visit Miami during the most vibrant international contemporary art week in the United States.
NADA Art Fair will take place from December 2 – 5. Deauville Beach Resort, 6701 Collins Avenue, Miami Beach, Florida 33141. For more information visit www.deauvillebeachresort.com / www.newartdealers.org
Art Fair Hours: Thursday, Dec 2: 2pm to 8pm / Friday, Dec 3: 11am to 8pm / Saturday, Dec 4: 11am to 8pm / Sunday, Dec 5: 11am to 6pm. Admission is free and open to the public.
Tweet